Quick Access:
Categories Reinstatement ISIA Recall Benefits
Pro Deals Insurance Scholarship SSD HOF and Recognition
Categories
Regular Membership
The Regular Membership is for active Ski Instructors who are teaching and/or Members who wish to attend a Certification Program, or Pro Day during the season. Regular Members enjoy a wide-variety of Member Benefits including Pro Deals, General Liability Insurance and Accident, Death and Disability coverage.
Consult the Insurance section below for further information on Insurance. Certain conditions apply.
Cost of Membership varies depending on your status and on how many organizations you are affiliated with. To know the exact amount for your Membership please contact us here at the National Office.
Associate Membership
The Associate Membership is an option for Ski Instructors who are not planning on teaching or taking a Certification Program or Pro Day during the season, but still want to keep their Membership active. By changing your Membership to an Associate Member and paying the annual Membership fees, you will avoid having to pay a reinstatement fee.
For CSIA Members, the Associate Membership will allow you to continue to accrue your years of Membership, towards receiving a Recognition within the organization.
The Associate Member is eligible for the General Liability coverage when skiing on their own personal time; however is not eligible to the Accident, Death and Disability coverage*. Consult the Insurance section below for further information. Certain conditions apply.
Cost of Membership varies depending on your status and on how many organizations you are affiliated with. To know the exact amount for your Membership please contact us here at the National Office.
Affiliate Membership
The Affiliate Membership status is intended for Ski Instructors that have been granted an equivalency for their Foreign Certification. Affiliate Members can also take advantage of our Membership perks such as Pro Deals, Snow School job listings, Insurance Programs*, etc. Consult the complete list of Membership benefits below.
To become an Affiliate Member of the CSIA, Foreign Ski Instructors are required to:
Complete the Affiliate Membership Application Form. Qualifications will be taken into consideration upon review of the application to grant an equivalency.
Once an equivalency has been granted, the Foreign Instructor can become an Affiliate Member by paying an annual Membership fee of $170.60 CDN plus applicable taxes (for a single CSIA Membership).
Affiliate Members can register for a CSIA Program once the Affiliate Membership fee is paid for that season.

Affiliate Members will be considered Regular Members after successfully completing a CSIA Certification of equal or higher level than the Certification Level granted.

Affiliate Members can also apply for a Ski Instructor's position in one of the Canadian Snow Schools. Please click here to view the current Job Postings. Please note that Working Visas and/or legal papers are not provided by the National Office, but rather through your potential employer.

If you are ready to apply for the 2020-2021 CSIA Affiliate Membership, please click here.

Upon reception of your Affiliate Membership Application and supporting documentation later this fall, we will treat your request and forward you all details by email. Please allow up to 5 business days for us to treat the request. Should you have any questions please do not hesitate to contact us.
*Subject to all restrictions and limitations described in the policy.
25, 40, 50 Year Membership
The 25 Year Membership is an exclusive Recognition given to CSIA Members that have paid their Membership fees for 25 consecutive or cumulative years. We also recognize 40 and 50 Year Members, with special certificates and pins.
Members having achieved this Recognition before or during the 2009-2010 season, as explained in the outcome of the April 2009 Special General Assembly communication, were grandfathered and would pay fees at a special rate in future years. These grandfathered members benefit from the same advantages as Regular Members, including Pro Deals, Insurance Coverage*, etc. For more information regarding the outcome of the April 2009 Special General Assembly, please click here.
Names of Members having received these Recognitions are listed below in "Hall of Fame and Recognition".
CSIA Membership Card
In an effort to reduce our environmental footprint, the CSIA made a decision to forego the plasticized Membership card and keep only the electronic Membership card format (virtual) as of the 2020-2021 season. You can view, download to Apple Wallet or print your card (if absolutely needed), through your CSIA Member profile. Once you are logged in, please follow these steps to view your card:
Click on "Member Area" and choose "My Profile"
Click on the button: "Download My Membership Card" to view or print your card
Click on "Add to Apple Wallet" to add your card to Apple Wallet App on iOS devices including iPhone, iPod and Apple Watch.
Contact the Membership Services department (1-800-811-6428 ext. 221) if you notice errors or have questions related to your card.
---
Reinstatement
Anyone who held a CSIA Certification in the past and would like to activate it, can apply for Reinstatement by filling out the online Reinstatement Application.
The Reinstatement allows the Member to reactivate their Certification(s), without having to retake the Certification. To do so, you will be required to pay a Reinstatement fee ($103.50), in addition to the current season's Membership fee and any applicable taxes. Note that Reinstatement fees and Membership fees depends on the number of organizations you are affiliated with and your status with each.
Also, upon Reinstatement, Members may be required to complete a Recall activity to ensure they are up-to-date on the current teaching methodologies. For further information on the Recall, please consult the Recall section below.
If you are ready to apply for Reinstatement for the 2020-2021 season, please click here.
Upon reception of the Reinstatement Application form, the CSIA National Office will validate and send you all relevant information pertaining to Membership by email. Due to the high demand please allow up to 10 business days for us to treat the request.
Should you have any questions please do not hesitate to contact us.
---
ISIA Requirements
As a Member of the International Ski Instructors' Association (ISIA), the CSIA has the authority to issue the ISIA minimum standard international stamp to its Members. The stamp allows for an increased recognition of one's competencies at the International Level. There is no charge for the stamp.
A minimum number of 320 additional hours of Canadian Education is required to reach the ISIA minimum standard. Below are the three mandatory Programs one must have to obtain the stamp:
Mandatory: CSIA Level 3 Certification or other Canadian organization Certifications
Mandatory: Avalanche Skills Training (AST)
Mandatory: Valid First Aid Certification (from a recognized organization such as Red Cross, St. John Ambulance, etc)
The additional hours of training that make up 320 hours of Canadian Education, must be completed through the CSIA or one of the following organizations: ACA/CSCF, CASI, CANSI, CADS, CSGA or CFSA.
Programs including Courses, Exams, and Events will only count once, even if you attended them more than once or had to take the Program again before passing. The reason they are not counted more than once, is because you are reviewing the same information and material and is not to be considered as additional training hours.
Private training programs or Snow School training programs are not eligible. Also note that when referring to Education hours, this means the hours attending Programs, we do not count the amount of hours you have worked at a Snow School.
To submit an application, please click here.
---
Recall
In order to maintain the integrity of your Membership, it is mandatory for all CSIA Members to participate in a Recall activity. It is required at least once every 3 (three years). Your CSIA Recall year is displayed on your downloadable Membership Card.
CSIA Recall consists of participating in a CSIA Certification Program or a Pro Day.
Should you have any questions, please do not hesitate to contact us.
---
Benefits
Gold Sponsors
The North Face - TNF offers Pro Program codes to all Members to buy TNF clothing and equipment online. Visit My Pro Deals section in your Member Area to apply. Purchase the new TNF Members' Midlayer in the CSIA Online Store for $180.95. Uniform ski suits are not available for purchase anymore due to limited demand. Replaced by the TNF Midlayer.
Subaru - Get $750 cash back on your next purchase or lease of a new Subaru vehicule.
Equipment
Save up to 50% on your next ski equipment deal when you purchase with participating manufacturers, through our Pro Deals Program.
For details on how the program works consult the Pro Deals section below.
Insurance
General Liability and Accident, Death and Disability Insurance coverage, as part of your membership.
Travel Insurance program with Securiglobe.
Preferential rates on your next Home and Car Insurance coverage with GPL. Details.
Training
Scholarship Program available to help you reach your next level of Certification. Details.
Visit our YouTube channel and Vimeo channel for training videos (covering both technique and teaching methodology).
CSIA Store
Brand-name CSIA logoed products and accessories are offered exclusively to our Members at special discounted prices. Visit our online CSIA Store.
Stay Informed
Get the latest news through Ski Pro Online click here.
Travel
Substantial rebates on lodging with Choice Hotels. Preferential rates are offered on your next car rental with National, Alamo and Avis. Codes are available in your Member Area/Pro Deals.
Save
Lift Ticket Discount for Program/Course Candidates: Benefit from reduced lift tickets at participating Resorts. Contact your local Resort in advance to confirm lift ticket details.
Canadian Ski Council Offer. Save up to 34% off ticket window prices at over 80 Canadian Resorts, until December 21st, 2020. Buy Lift Passes in packs of 5 directly from the CSC website, no promotional code required.
NEW Get a 2 year MINTZ Enhanced (Canadian) Criminal Background Check for $25 as a CSIA Member.
Tax Benefit: The CSIA is an officially recognized federal and provincial educational institution. As such, Members will receive a Tax Deductible Receipt when participating in Programs and select Events.
---
Pro Deals
How does the Pro Deals Program work?
The CSIA Pro Deals Program is open to all active CSIA Members in good standing.
Each CSIA Member is entitled to 1 (one) set of Pro Deal equipment per season purchased in Canada. Your downloadable Membership Card (from My Profile) is equipped with an image for items that may be purchased through the Pro Deals Program. Your card will be validated at the time of purchase, so please assure that you present your valid Membership card on your smartphone or printed out at the time of purchase, otherwise your order will be refused.
There is no deadline to purchase your equipment (details below). However, stock is limited so first come, first served.
How do I purchase my equipment?
The CSIA Pro Deals Program varies depending on the manufacturer. Some will direct you to their online store and others will provide you with a PDF order form. For those who provide a PDF, you can either place your order directly with the manufacturer or you can present yourself in a participating retailer in Canada with the PDF form and your virtual Membership card.
Unfortunately the CSIA National Office is not provided with a list of the many different retailers across Canada that participate in the Program. We strongly suggest giving your local retailer a call and speak with a Manager to inquire whether or not they participate in the CSIA Pro Deals Program.
Please be friendly and very respectful of the staff at the participating retail store as they are providing CSIA Instructors with a service. If you have clients looking to purchase equipment, recommend the store where you bought your Pro Deal equipment, to return the service.
The CSIA National Office acts as the liaison for the manufacturer. If you have questions regarding products, pricing, etc., please contact the specific manufacturer or a participating retail store that carries the brand of your interest.
Please login to your Member Area/My Pro Deals to view this season's Pro Deals.
---
Insurance
General Liability Insurance
The CSIA Third Party Liability Policy is insured through Lloyd's of London. The policy provides general liability insurance with respect to Third Party Property Damage and Bodily Injury claims against the CSIA. All operations of the organization are covered including administration; National Programs, Regional Committees and their activities, etc.
A secondary purpose of the CSIA Liability Policy is to provide excess coverage for Members, beyond the insurance provided by employers such as Ski Areas and Snow Schools. The CSIA policy will respond in excess of other insurance in place for current CSIA Members. It will not respond as primary insurance for Members or Employers.
The policy may respond to defend Members in several situations, including while they are skiing on their own personal time or when teaching for a Snow School. If a Member is teaching at the time of an incident, the Employer's policy will respond first to defend the Member. However, if the Employer's coverage was inadequate (i.e., the limit was exhausted) the CSIA policy would respond in excess of the Employer's insurance. In the case of an incident while the Member was skiing on their own personal time, the liability insurance provided as part of the Member's homeowner or tenant's policy would respond first. (All CSIA Members are therefore strongly encouraged to carry their own homeowner's or tenant's insurance policy). The CSIA policy would respond second (excess) if required.
The CSIA General Liability Insurance will not respond to cover uninsured Snow Schools that employ current Members. Each Snow School must secure their own liability coverage.
The CSIA policy does not cover CSIA Members' freelance teaching activities. This activity is generally not condoned at Ski Resorts across Canada so Members considering it are encouraged to first secure agreement with the host resort.
The CSIA liability policy provides worldwide coverage for Members who are Canadian Residents. Any lawsuits against the CSIA or its Members must be launched within Canada for the policy to respond. Foreign Members must secure their own independent insurance coverage for any activities outside of Canada.
This document is a partial summary explaining the application of our Members' Liability Insurance coverage. It does not replace the complete wording of the policy. In the event of a discrepancy between this partial summary and the policy wording, the policy wording shall prevail.
Accident, Death and Disability Insurance
The Accident, Death and Disability policy provides benefits in the event of an accident*. All CSIA Members in good standing, under 70 years of age, are eligible to this program. Members are covered when performing the normal and regular duties, which pertain to their occupation as a Ski Instructor and for which they are being remunerated (while under the employment of a Snow School).
*Subject to all restrictions and limitations described in the policy.
This plan also provides Members with insurance while they are travelling directly to or from their residence and the premises of their duties, along a normal or reasonable route, without delay or stop-over. Members are not covered while attending Programs for which they do not receive remuneration from their Employer.
A claim must be submitted as soon as possible, and within the prescribed time frames of each section listed in the policy, if applicable. No claim will be valid after three hundred and sixty-five (365) days following the date of the accident or the beginning of the disability.
Please click here to view the policy in its entirety.
For any questions relating to the General Liability or the Accident, Death and Disability coverage, please contact the National Office at 1-800-811-6428, Ext. 0 or by email at insurance@snowpro.com.
Travel Insurance Program
Looking to enjoy your skiing experience with peace of mind?
Travel Insurance Program with SecuriGlobe!
SecuriGlobe is Canada's largest Travel Insurance distributor. They offer a wide range of exclusive Travel Insurance products from 15 of the largest providers in Canada. This enables them to recommend over 300 custom, adapted products, for short-term or long-term trips, for interprovincial or cross-border travel.
We know that the premiums associated with Medical Travel Insurance outside your home province or country can be very pricey and in a lot of cases, come with restrictions pertaining to the profession of Ski Teaching. Regardless, whether you want to enjoy a safari in the Serengeti or not, it is always strongly recommended to purchase the appropriate Travel Insurance.
Compare with over 12 Travel Insurance carriers in a single phone call.
Get coverage that is based on your specific needs at the best competitive rate in the industry.
SecuriGlobe offers:
Trip Cancellation and Interruption
Medical Expenses up to $5,000,000
Non-Medical Package
All-Inclusive Package
Their priority is providing you with travel protection that both fits your needs perfectly and provides unparalleled service. Travel with peace of mind knowing you are well protected.
For a quote, please call toll-free 1-877-442-0442 or visit www.securiglobe.com/en/.
Please login to your Member Area/My Pro Deals and Promo Codes to access your CSIA Group ID Code.
Home and Auto Insurance Program
For CSIA Members residing in the Province of Québec only:
Is your current Home and Auto Insurance policy up for renewal? Why not give GPL Assurance a call for a free quote? As a Member in good standing, not only do you benefit from preferential rates but you'll also enjoy their great service. For more information, please contact them at 450-978-4446 or visit their website at www.gplassurance.com.
---
Scholarship Program
The CSIA continues to promote ongoing education through its Scholarship Program. Financial assistance is made available to aspiring full-time and part-time Ski Instructors that have unmistakably demonstrated their commitment to the sport of skiing and have distinguished themselves by their initiative and involvement in their Snow School. We are very proud to say that the Scholarship Program is funded through voluntary contributions received from CSIA Members at large.
The 2020-2021 deadlines for submitting Applications are as follows:
- December 14th & January 1st, 2021. The first round deadline.
- February 1st, 2021. The second round deadline.
- March 1st, 2021. The third round deadline for BC and AB Applicants only, as part of their unique funding from those Regional Committees.
Due to the effect of COVID-19 and late start of the season in some places, CSIA Program offerings in certain parts of the country needed to be postponed. This contributed to some Members not being able to submit their Scholarship requests. Therefore, the CSIA decided to make additional rounds available for this season (to be used this season). We ask that Members who have already submitted an Application on the first round deadline of December 14th & January 1st, please do not re-submit an Application. Know that if you were unsuccessful in securing a Scholarship, your Application will also be considered for the February 1st second round deadline, and third round if applicable.
*Members from AB and BC were provided with other opportunities to obtain a CSIA Scholarship, thanks to the AB Committee and BC Committee's unique funding of additional Scholarships for their Regions. All three rounds of deadlines for these additional Scholarships, available to Members of these 2 Regions are listed above.
The CSIA Scholarship Program grants selected applicants with a one-time use promo code, applicable on one or more Certification Programs of their choice, up to a value of $500 ($1000 when applied towards the Level 4 Academy). All Certification Pathway Programs are eligible, excluding the Level 4 Academy Selection Camp.
This text is gender-neutral, addressing both women and men.
The Candidate must:
be a Regular Member in good standing with the CSIA;
include a summary of their involvement and dedication within their Snow School, including any specific achievements or recognitions received and outline their career objectives within the Ski Industry;
include a letter of recommendation from their Snow School Director;
clearly demonstrate financial need;
send their Scholarship request by February 1st, 2021 (all Members), or for BC and AB Members February 1st, 2021 or March 1st, 2021;
mention the Program location and date they are applying for;
to apply for the Scholarship, please login to your Member Area, then select Scholarship Application from the drop down menu.
The Scholarships shall be awarded based on the following criteria:
all of the above-mentioned information has been submitted;
priority will be given to full-time seasonal and part-time CSIA Ski Instructors whose sole revenues come from ski instruction;
a maximum of two letters received from the same Snow School Director will be accepted for the same Program;
the Scholarship will be valid until June 30th, 2021;
should the Program that you have been awarded be cancelled, the Scholarship amount will be carried over to the following season, subject to Candidate's written confirmation of the new Program;
only one Scholarship, will be granted per Member in a three (3) year period;
the Scholarship request is subject to space availability at the time of registration.
Selection Process and communication:
the CSIA Selection Committee will be responsible for the selection of the Candidates;
all Candidates will be notified of the Selection Committee's decision within 2 weeks of the deadline in writing (email or letter), by telephone or by other means deemed adequate.
The application process is located in your Member Area at My Profile/Scholarship Application. Please don't hesitate to contact us at scholarship@snowpro.com should you have any questions. Or by mail to:
Canadian Ski Instructors' Alliance
Scholarship Program Selection Committee
401–8615 Saint-Laurent Blvd
Montréal, QC H2P 2M9
---
Snow School Directors (SSD)
The CSIA provides the following to Snow School Directors at no cost
Advertise job postings on the CSIA website (self service in the Admin Area) and official LinkedIn page (optional);
Preferred price on a "Communications eblast" to the Membership (25% rebate);
Research Payment Status and Certification of your Ski Instructors;
Purchase and consult documents related to the Skier Development Programs;
Participate in ZOOM Webinars with CSIA Directors and Regional EPC and RAC's to discuss SSD topics;
Receive promotional material from CSIA (such as the Affiliate CSIA Snow School Identification Window Sticker);
Partake in the CSIA Instructor of the Year Award;
Create an Account for SSD
If your Organization does NOT have a Snow School Directors Account, please contact the CSIA National Office by email at national@snowpro.com and provide us with the following, so we can create an account for you:
Name of Organization
Mailing address & physical address if different
Website & email address
Telephone number
Fax number
Name of contact person for the Organization including their email and phone number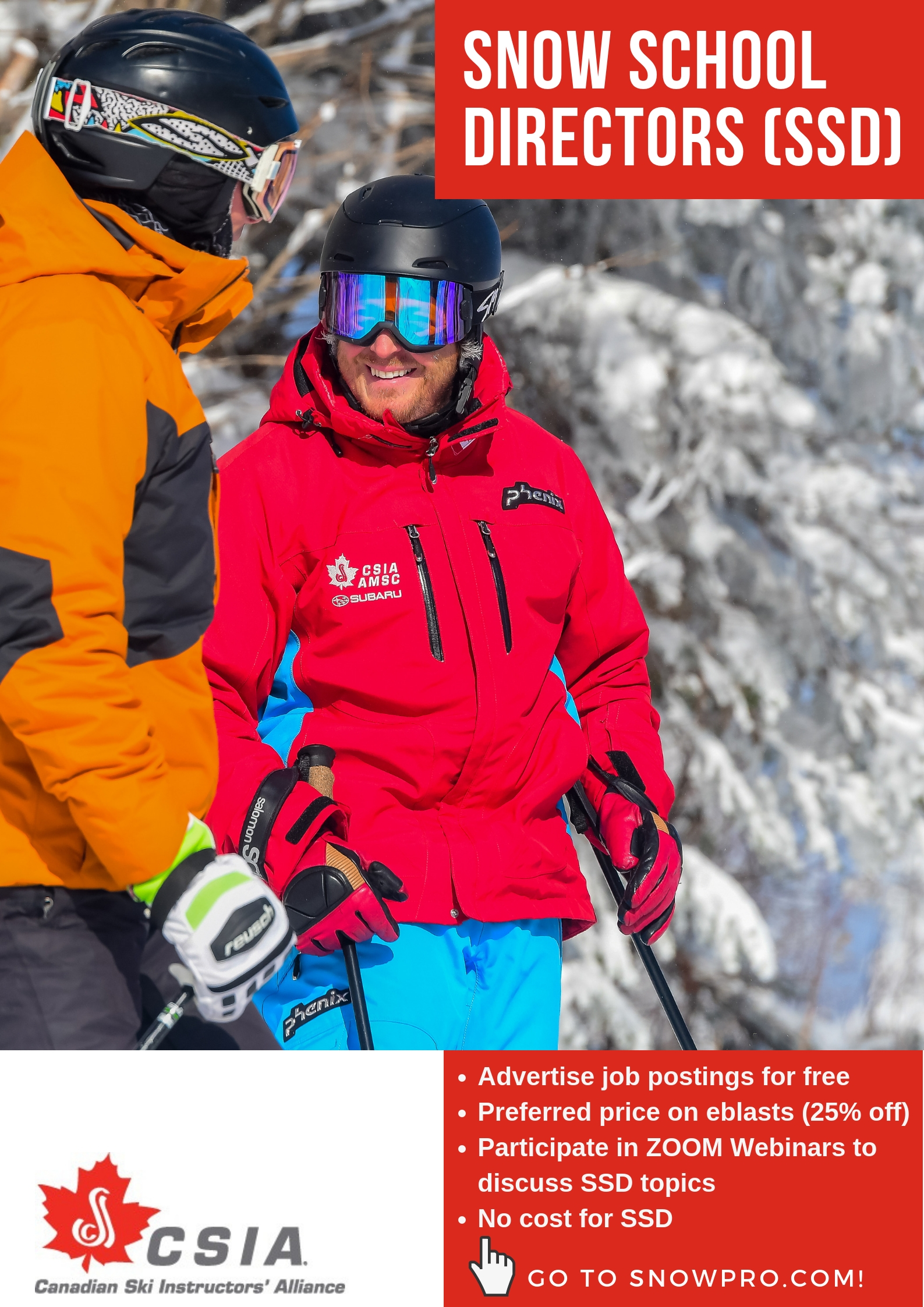 ---
Hall of Fame and Recognition
Hall of Fame
CSIA's National Hall of Fame is dedicated to preserving the history of the organization, inspiring and encouraging the development of young Ski Instructors, and enshrining CSIA Icons and Legends who have made a significant contribution to the growth and well-being of the CSIA on a National scale and to the sport of skiing and ski teaching. The CSIA thanks Mike DesBrisay, Martin Jean and other cherished Members who have contributed to the esteemed process over time.
Anyone to recommend? Submit a Nomination for the Hall of Fame
Recognition